Traditional Latin Mass Pilgrimage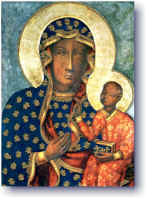 Our Lady of Czestochowa
The first Traditional Latin Mass pilgrimage to the National Shrine of our Lady of Czestochowa in Doylestown, Pennsylvania occurred on Saturday, August 20, 2005 with the gracious permission of his eminence, Justin Cardinal Rigali of Philadelphia. Over 700 attended, some coming from as far away as Canada.
It was a day of prayer and reparation to the Immaculate Heart of Our Lady of Fatima.
If you are planning to attend/or charter a bus in 2007 please inform Father James Miara so that he can estimate a number for that day. He can be reached at 718-295-3770. Please also call if you have any further questions or need further information.
The shrine has limited overnight accommodations and there are some hotels in the area for those traveling at a long distance.



Father James L. P. Miara,
Church of Our Lady of Mount Carmel
627 East 187th Street
Bronx, New York 10458.

THIRD ANNUAL TRADITIONAL LATIN MASS PILGRIMAGE


Saturday, August 18, 2007
National Shrine of Our Lady of Czestochowa
654 Ferry Road
Doylestown, PA 18901
SCHEDULE
10:00 a.m. - Arrival and Confessions
11:00 a.m. - Outdoor Rosary Procession
12:00 p.m. - Latin Tridentine Mass
1:30 p.m. - Lunch Break
3:00 p.m. - Stations of the Cross and Benediction of the Blessed Sacrament
4:30 p.m. - Departure
For more information please call:
(718) 933-6299