Sursum Corda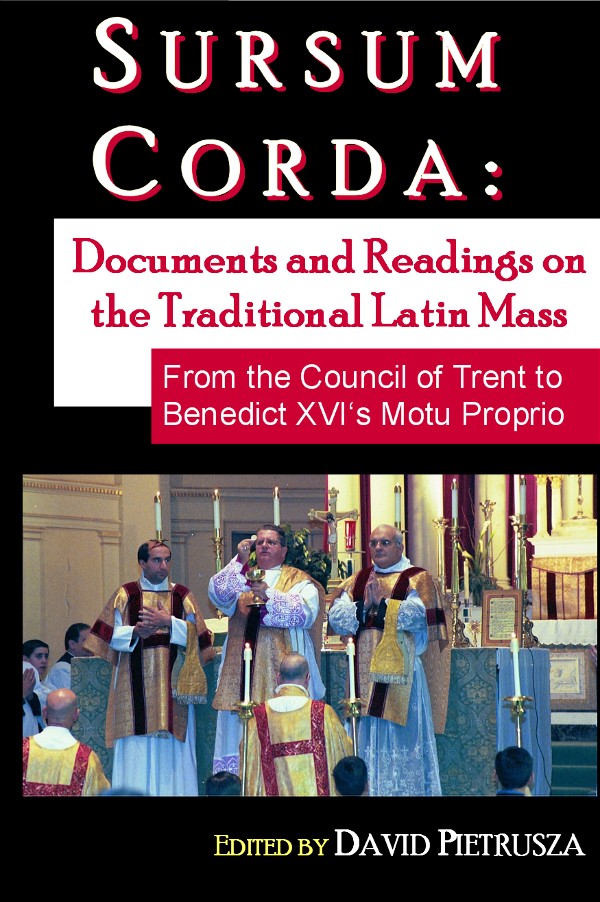 Documents and Readings on the Traditional Latin Mass
Sursum Corda:
Documents and Readings on the Traditional Latin Mass

From the Council of Trent to Benedict XVI's Motu Proprio

A new generation of Catholics is discovering the beauty, reverence, appropriateness, and efficacy of the Tridentine Mass. The Traditional Latin Mass, as the saying goes, is "the Mass the martyrs died for." It is also the Mass the faithful lived for and which gave life to them and to the Church itself. This small volume is designed
to humbly guide you in an appreciation of the Traditional Latin Mass' beauties, coherence, logic, aesthetics, glories, and graces.

Featuring the works of:


The Council of Trent

Pope St. Pius V

Pope St. Pius X

Pope Pius XI

Pope Pius XII

Bl. Pope John XXIII

Pope Paul VI

Pope John Paul II

Pope Benedict XVI

St. Charles Borromeo

Fr. Adrian Fortescue

John Henry Cardinal Newman

Alfons Cardinal Stickler

Dom Fernand Cabrol

Michael Davies

Fr. Uwe Michael Lang

Bishop Athanasius Schneider

Fr. John Zuhlsdorf

Micheal S. Rose


. . . and more.
440 pages.
Trade Paperback.
6" x 9" Trim Size.
List price: $14.95.
Available from
createspace.com
or from
amazon.com
. Available in a
kindle
electronic edition ($6.95).
Free shipping from amazon.com on selected orders of $25.00 or more.
"belongs in the library of any Catholic person or organization devoted to the Traditional Latin Mass. . . . If the priest who says that form in your parish or chapel doesn't already have a copy, it would make a most appropriate gift."
--Una Voce America Nota