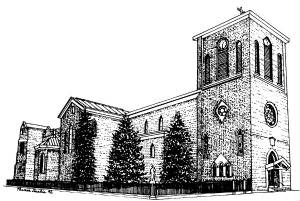 St. Joseph's Church, Troy, NY
Founded - 1847
416 Third Street (Third & Jackson)
Troy, NY 12180
(518) 274-6720
Miraculous Medal Novena: Tuesday, after 8 AM MasLiturgy of the Hour: Monday-Friday 7:40 AM
Priory:
416 Third Street
Troy, NY 12180
Personnel:
Fr. James Sidoti (O. Carm), Administrator

Fr. Lucian Beltzner (O. Carm)

Fr. Jeff L'Arche (Priest Available to celebrate the Extraordinary Form)

Joanne Barnes, Director of Faith Formation

Paul-Allan Carey, Director of Music Ministry, Extraordinary Form

Jim Erly, Director of Music Ministry. Ordinary Form
Liturgies:
Ordinary Form:
M-S at 8 am. Saturday anticipated liturgy at 4 pm, Sunday at 8:30 & 10:30 am.
Holy Days at 5 pm
Extraordinary Form:
Saturday: 3:00-3:30pm
Sunday: 11:30-12 pm
Last Sunday of the month at 1:30 pm or by special arrangement
Parking
St. Joseph's Church sits on property that is bordered by 3rd Street, Jackson Street, Monroe Street, and 4th Street. These streets offers a total of three-tenths of a mile of on-street parking that lends exclusively to St. Joseph's Parish use. Additionally; there are approximately 24 parking spaces in the former school lot (accessible from Monroe Street).
The Extraordinary Form (Latin Tridentine Mass) is celebrated on:
St. Joseph's Parish Registration Form (pdf)
What is a Parishioner? Many of you are attending Mass regularly at St. Joseph's Church, and give generously to our offertory and special collec­tions, etc. (Thank You). However, that does not automatically make you a "Registered" parishioner. A "Registered" parish­ioner is one who attends Sunday Mass at Saint Joseph's regu­larly and participates in our community-life. Using church en­velopes helps us confirm your membership in our parish for special occasions such as, being asked to be a Godparent for Baptism or a Sponsor at Confirmation, or preparation for one of the Sacraments. Registration forms can be found on our bulle­tin or at the Priory Office during regular working hours.